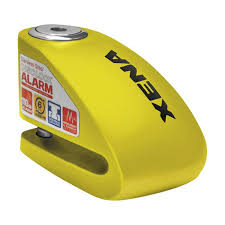 High-grade mono-block alloy construction and piercing alarm make the XX6 a remarkably effective way to protect your motorbike or scooter.
Lock: Suitable for virtually any scooter or small motorcycle brake disc, with a high-grade mono-block stainless-steel construction and a 6mm hardened steel pushdown locking pin. Freeze-spray resistant and pick-resistant key and barrel.
Alarm: Shock & motion sensors linked to a sophisticated microprocessor trigger a 120dB alarm powered by a single CR2 long-life Lithium battery. All electronics are housed in a replaceable alarm module -- no tools required. Self-arming, with no on-off switch, re-sets to armed mode within 15 seconds.
Lock features
Pushdown locking system
6mm steel locking pin
Freeze spray-resistant key barrel
Alarm features
120dB alarm
Auto arm/disarm
Shock & movement sensors
Replaceable alarm module
Included
1 XENA Disc-Lock
1 CR2 Battery
3 Keys
1 XENA lock tool etched with unique key code