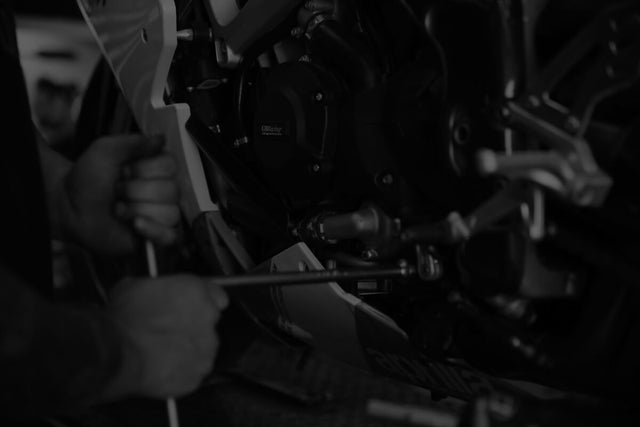 About
Studio Cycle is your authorized Toronto dealer for Husqvarna, Aprilia & Moto Guzzi motorcycles, and a wide range of safety gear, parts & accessories. We are your trusted source for all things motorcycle, including repair & service of all makes and models. Family owned and operated since 2008, we are a small group of dedicated and passionate riders with many years of expertise. Conveniently located in Toronto's Junction neighbourhood, we take pride in being part of Toronto's vast urban motorcycling community.

Studio Cycle strives to be THE urban destination for motorcyclists in Toronto. We offer professional expertise, a range of experience, a refined selection of high quality products, and a modern, fun and exciting environment for motorcycle enthusiasts.

Our mission is to make motorcycling safe, accessible and enjoyable to the greatest number of people, including first time riders and seasoned veterans of the sport. By staying informed of industry trends, changes in technology, innovation in product design, and developments in safety, we can curate our selection of products and services to only offer the best value and quality for our customers.
What Our Clients Say
One of the most amazing true Moto retailers in the CITY. Always Amazing & Outstanding. Straightforward pricing from outset. Adam is an exceptional sales manager and simply put every bike that I have purchased there is always delivered perfectly. They carry Helmets and loads of accessories all competitively priced (skip Amazon and shop LOCAL). Very cool showroom in the Junction. Take a tour, grab a bike and enjoy the rest of your time in the neighbourhood. The owner's integrity and care for all her clients is admirable and Genuine. They deliver on every promise. They communicate clearly and often. Service is epic. Thank you for giving me so many hours or freedom on TWO WHEELS. Very curated collection of New Bikes, and some pre-owned as well.
Nick Pavlov
Serviced my motorcycle here without any surprises. Mechanic was thorough and kept me informed on all the work being done. He even saved the old parts and provided photos of the job. Where it made sense to do the little extra job he did. Price was reasonable and best of all bike was cleaned up and it runs great. Thanks Lee, great work!!!
Joao Soares
I visited 4 other dealers throughout the week prior to Studio Cycle as I live further away and the sales experience here was A++ in comparison. Adam managed to get me on a demo bike the same day, offered a great price on a new model of the bike and saved me the hassle of having to haggle. No bs, straight to the point, great pricing and great service.
Neb Ilic
The store is quite awesome. It's practically art gallery of really beautiful motorcycles and perfectly serviceable protective riding equipment. If you're into motorcycles or you're into wonderful clothes, I must highly recommend this shop.
Bruce MacNeil
I just wanted to take a minute to thank Sabina and her staff at Studio Cycle for providing OFTR members with a fantastic customer experience when purchasing a new bike, getting service work done or buying gear. They always have a competitive price and are ready to help with professional advice. The staff is fantastic, non-pushy, and very knowledgeable. There are many off-road riders in the GTA, and it is great for our members to have an authorized Husqvarna Dealer right in the heart of Toronto. Please become part of the family and give them a call today.
Rome Haloftis, Ontario Federation of Trail Riders
Great group of people. I love my little Vitpilen 401. I work in the service industry and they always impress me. Great selection of clothes and helmets too. ****update. I have another new bike from Studio Cycle and love it even more.
Scott McCallum
I purchased a Husqvarna from them and the experience could not have been better. Everyone from the owners to the service guys are friendly, knowledgable a pleasure to deal with. They also have a fantastic selection of accessories.
Walter Rhoddy
---
Sabina

Owner and administrator, you'll find her tucked away in her office, managing all things behind the scenes. She is the numbers person, a born mathlete and entrepreneur! If you catch her on the street, it will likely be on her beloved MV Agusta F3 sport motorcycle or zipping through city traffic running errands on a KYMCO scooter and solid white Arai helmet.

Fun facts: Sabina is the work-a-holic of the group; can be bribed with coffee.

Lee

Service manager, most likely to be found behind the parts counter surrounded by work orders, parts boxes, and customers! Lee is the organized one of the bunch, keeping the rest of the team on schedule. If you call us, chances are he'll be the first to answer the phone and will be more than happy to assist with whatever you're calling about. An avid rider, he also has quite the collection of motorcycles!

Fun facts: Lee has terrible handwriting; can only be bribed with cash.

Adam

Toronto born and raised, Adam has followed the Piaggio brands around from operating a Vespa dealership to flogging Aprilia superbikes and classic Guzzi's in and around the Woodbridge area. A "dealmaker" at heart, he has traded in his bike and helmet for a set of golf clubs and some fancy outfits to boot.

FUN FACTS: Can be bribed with top shelf golf balls and really good "what happened last night" stories.

Dave

Owner and lead technician, "Danger Dave" has been riding motorcycles from the time he could balance a bike. If it has two wheels and a spark plug, he'll most likely ride it. From motocross, to scooters, to cruisers, to touring bikes, and everything in between, chances are he's ridden it, crashed it, fixed it, bought it, sold it, and has lived to tell you all about it.

Fun facts: Dave is not a morning person; can be bribed with beer... if you can find him. He's currently roaming the mountains of BC.

Chris

Factory trained master technician, specialized in Ducati and other European bikes. Chris is hardly new to the motorcycle industry. He is well-known for his superior technical skills and years of experience in the trade. You'll find him in the service area, busy trouble-shooting and doing all kinds of mechanical tasks! Master at his craft and prefers to be left to his own devices.

Fun facts: Chris is the quiet type - we're not sure yet if he can be bribed...

Diego

So passionate about motorcycles, Diego has travelled all the way from Spain to work with our team as a motorcycle mechanic. He is dedicated to taking care of bikes with precision and perfection. You'll find him busy in our service area, concentrated on his task at hand.

Fun facts: a native of Valencia, Spain; can likely be bribed with Mediterranean food.