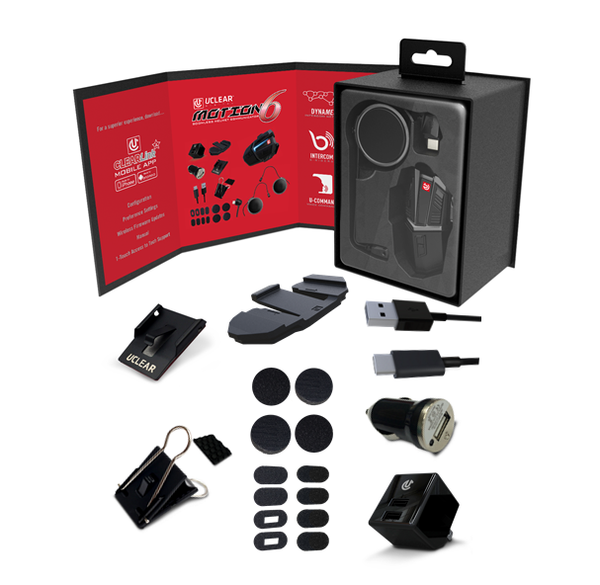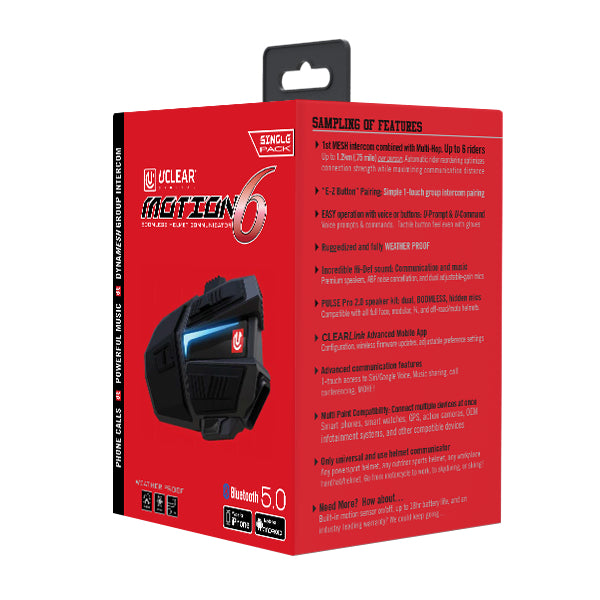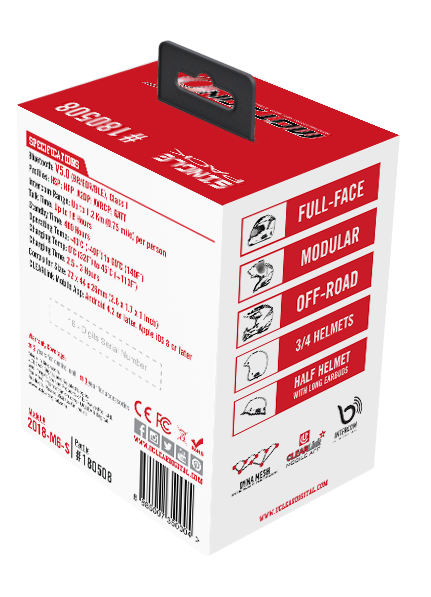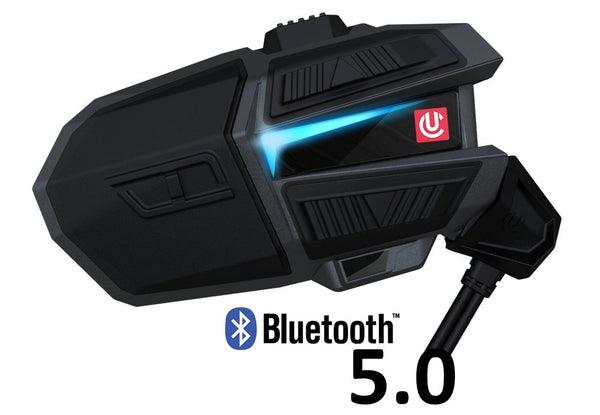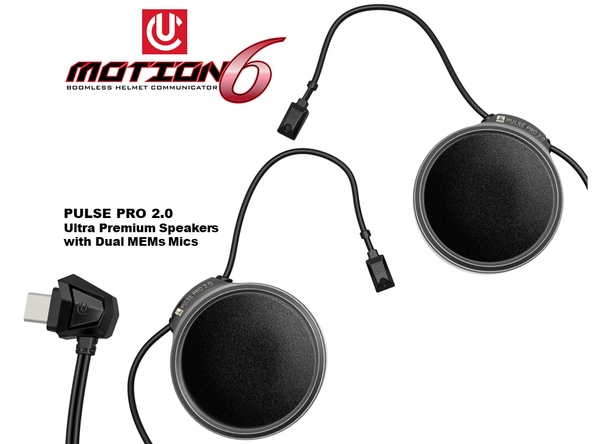 The UCLEAR Motion 6 System is built upon direct feedback from riders, dealers, and industry experts to introduce our most advanced Intercom system yet. All new gesture controlled commands will allow full control of the system without the press of a button. Thick gloves? No problem! Up to 6 riders can be connected using the Motion 6's full duplex DynaMESH intercom. No matter the sport, the weatherproof Motion 6 will enhance your rides while delivering crystal clear communications and powerful music on any trail, in any weather.

Choose the single pack, or dual kit which includes 2 full rider systems in one box!
MOTION Infinity Features:
Industry first Mesh intercom with Multi-Hop for infinite rider pairing
Up to 1.2km (.75 mile) per person. Automatic rider reordering optimizes connection strength while maximizing communication distance.
"EZ Button" pairing
Simple 1-touch group intercom pairing
Gesture Control
Buttonless control of most common commands with simple hand movements near the unit. Thick gloves? No problem!
Easy operation with voice or buttons: U-Prompt & U-Command
Voice prompts & commands. Tactile button feel even with gloves
Ruggedized and fully WEATHERPROOF
Audiophile? Incredible Hi-Def communication & music
Ultra premium Pulse Pro 2.0 speakers with dual BOOMLESS adjustable gain MEM's mics, graphic equalizer, and incredible ABF noise cancellation.
CLEARLink Advanced Mobile App
Configuration, wireless firmware updates, adjustable preference settings
Advanced communication features
Control of Siri/Google Voice, media sharing, call conferencing, music/intercom overlay, voice call pick-up, MORE!
Multi point compatibility: Connect multiple devices at once
Smart phones, smart watches, GPS, action cameras, OEM infotainment systems, and other compatible devices.
Only universal use helmet communicator
Any powersport helmet, any outdoor sports helmet, any workplace hardhat/helmet. Go from motorcycle to work, to skydiving, or skiing!
Need more? How about…
Built-in motion sensor on/off, up to 18hr battery life, and an industry-leading warranty? We could keep going…