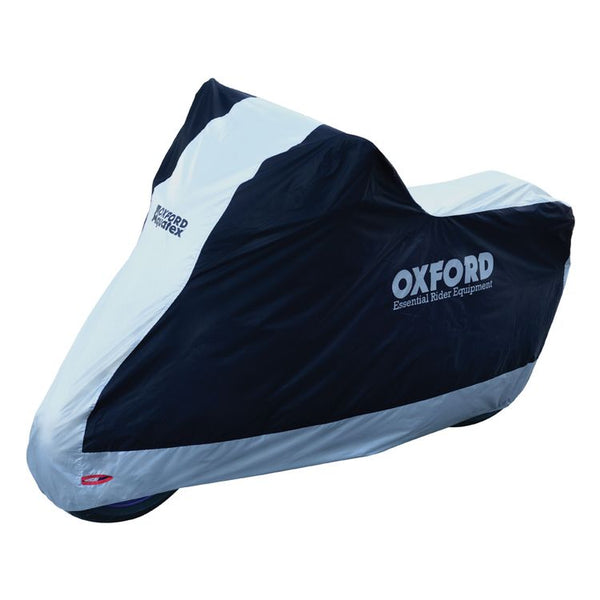 The Oxford Aquatex is THE essential motorcycle/scooter cover. As you would expect from the world's best-selling motorcycle cover it comes packed with useful features and is built to last.

Designed for both outdoor and indoor use, it offers protection against rain and dust. Police initiatives have also shown that bike covers can be a useful theft deterrent. This is especially true if you securely the belly strap in place and use the cover in conjunction with a chain lock, threaded through the lock holes provided, securing both motorcycle and cover in place at the same time.

The UK's most respected motorcycle consumer title Ride Magazine rated the Aquatex BEST BUY in their market review. They praised the combination of weatherproofing, quality construction, useful additional features and incredible value.
Key Features:
Double-stitched polyester for strength and durability

Complete exterior and interior protection - can be used both as an outdoor rain cover and an indoor dust cover

An elasticated base with a belly strap creates a snug and secure fit

Comes with a zipped carrier, to store away compactly when not in use

Strong but lightweight material is UV resistant, so does not degrade in sunlight

Double PU coating for optimal waterproofing

Available in 6 sizes including MP3 and High-screen bikes

IMPORTANT: Do not allow this cover to come into direct contact with hot exhausts, engine parts or sharp objects