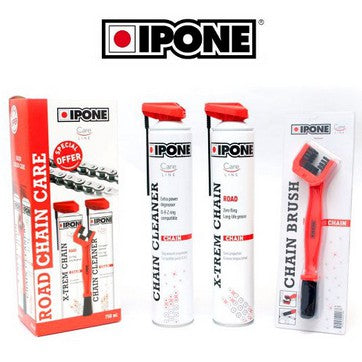 Why you will love it:  Because in this pack you have everything you need for a complete maintenance of your chain!
Degreaser with powerful spray

Long-lasting grease - 800 km

Retractable rod attached to the sprays
Efficient brush
THE ULTIMATE DEGREASER FOR YOUR CHAIN
CHAIN CLEANER effectively cleans and degreases all types of motorcycle chains (road and off-road). Its multi-position diffuser makes it easy to manage the power and the amount of spray used at each pressure. Very practical, it allows to pulverize a wide or precise spray to effectively remove all the greases and dirt embedded between the links (sand, dirt, oil, grease...).
THE CHAIN GREASE THAT LASTS 800KM !
X-TREM CHAIN ROAD is a high-performance chain grease. Thanks to its high-tech calcium sulfonate formula, it holds perfectly to your chain up to 800 km, even in wet environments. Its texture guarantees optimum adhesion to the chain and dries quickly to avoid projections on the rim. Its cream colour, visible when applied, allows you to check that you have not forgotten any links. Economical, a simple rotation of the chain is enough for a perfect lubrication!

THE BRUSH, ESSENTIAL FOR A PERFECT CLEANING !
For a perfect and proper degreasing of your chain, it is recommended to use our chain brush. Thanks to its three-sided head, it is the essential accessory for a deep cleanse and to unclog all greases and other soiling.