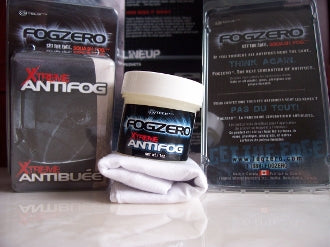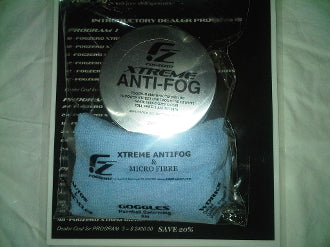 It's an Xtreme solution to an extreme problem,and the science is simple: Reduce surface tension and you stop fog before it starts. Using the latest in micro polymerization technology we have fused together the longest lasting surface tension reducing agents with a powerful antistatic formula suspending these in a concentrated paste compound.
The result...... Fogzero, champion of antifogs.
FogZero Xtreme Antifog reduces surface tension, filling in minor scratches and making the surface antistatic which eliminates dust particles so water droplets have no where to form.  FogZero will clean, repel dust, reduce glare and fill in minor scratches on all glass, plastics and polycarbonate surfaces.
Safe to use on:

Motorcycle windscreens, visors, gauges, goggles

Snowmobile visors, windscreens

Hockey Visors, glasses, plexiglass

Ski Goggles, glasses, sunglasses, A.R coatings

Diving masks, swim goggles, glasses

Paintball goggles, glasses

Plastic storm windows, skylights, green house windows

Boat portholes, gauges, instrumentation

Auto windows, side mirrors, headlights, acrylic paint, clear-coat

Television screens, computer monitors, LCD screens, cellular phone plastics, watch crystals

Satellite dishes

Collapsible windows on convertibles and SUVs

Safety shields, goggles, glasses

Welding helmets and protective equipment

Airplane windows

Bathroom mirrors, kitchen windows, glass furniture

Mirrors & lenses of all types

Gun scopes, spotters scopes

Binoculars, camera lenses

Fire fighting breathing apparatus, protective shields, glasses