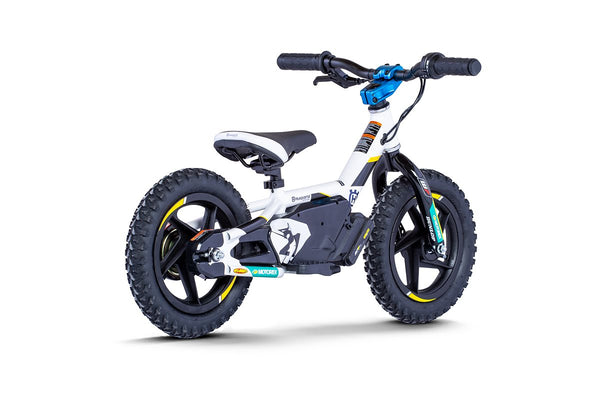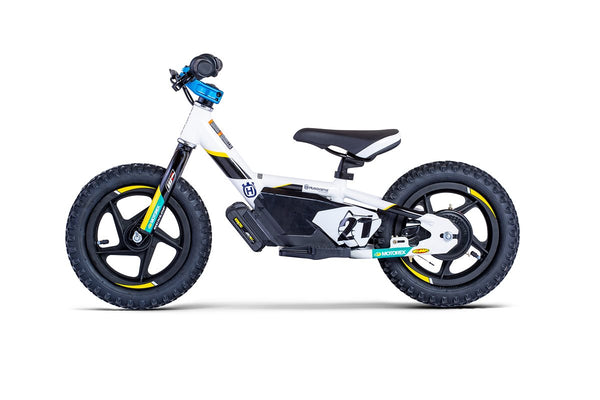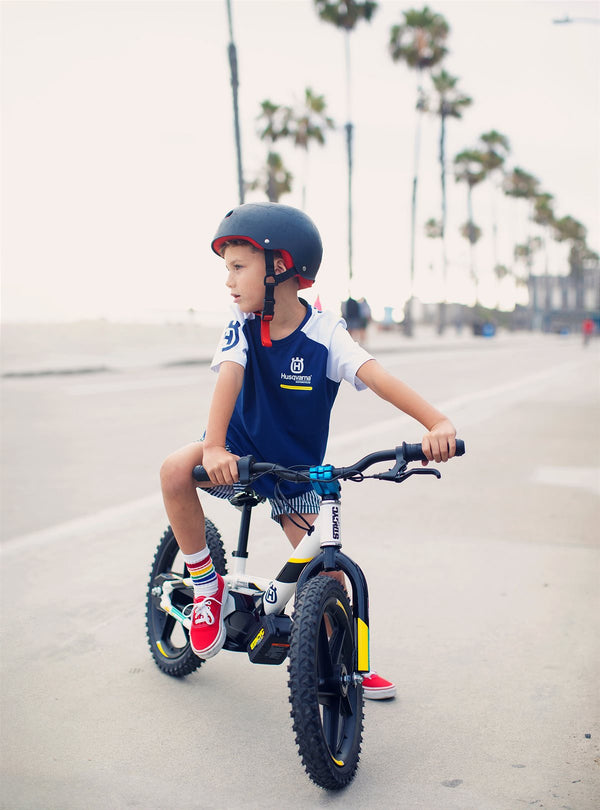 Husqvarna Factory Replica STACYC 12eDrive
$1109.99 + HST
Perfect for 3-5 year old riders under 75 lbs with a 14-20" inseam.
The HUSQVARNA FACTORY REPLICA STACYC 12eDRIVE is the perfect choice for little rippers with little or no experience on a balance bike. Your child should have an inseam of 14" or more to adequately touch the ground with a slight bend in the knees for optimum sizing. Your child can learn to push, balance, and coast in the Non-Powered mode. Graduate them to the powered mode (the holy grail of fun) as they show proficient use and understanding of the brake and the ability to coast and brake while standing. Start them with a speed similar to what they can push the non-powered version at, and they learn the use of the twist throttle, and a long coast turn into a constant use of throttle and giggles. As they continue to develop skills, the medium speed of the STACYC 12eDRIVE allows for an exceptional amount of fun outdoors, getting thousands of hours of hand-eye coordination, balance, and outdoor exercise.
With weight relative to a BMX bike, and the eliminated need for pedaling, young riders gain the ability to learn bike handling skills while in motion; accelerating confidence early on. Although foot rests are in place for support, riders will find themselves easily able to touch the ground comfortably. All of these fun benefits attribute to young riders wanting to ride longer than on a traditional pedal bike.
Specification
PURPOSE BUILT
12" Composite wheels with pneumatic tires
Seat height: 13"
Weight: 17 lbs. with battery
Frame: Aluminum tig welded
Fork: Steel, BMX style
PROPRIETARY DRIVE SYSTEM

Power selection modes:
Low/Training mode ~ 5 MPH
Med/Transitional Mode ~ 7 MPH
High/Advanced Mode ~ 9 MPH
Thermal protection for motor and controller
BMX chain and freewheel
INDUSTRIAL GRADE LITHIUM-ION BATTERY & CHARGER

Quick disconnect/connect battery
20Vmax voltage (18Vnom)
2Ah
30-60 minute run time
30-60 minute charge time
Financing
Interested in financing your purchase? We have great lenders to choose from and you can submit your application directly online! Once pre-approved, simply visit us in store to complete your purchase.
Insurance
Curious about insurance? Get an online quote from any of these providers: